We are told and shown through the media that the holidays are to be surrounded by loved ones, given presents, and eat all the food. I don't know about you but for the longest time I've had this fantasy about having a Parenthood style family: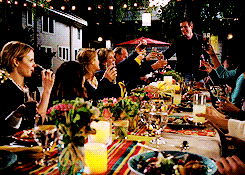 They are a large loving family with their share of problems but always come together for an outside dinner in a fairytale garden of a backyard with twinkling lights. Here's the thing. Parenthood was a great show. But it is a show about ONE family (and yes, FICTIONAL). Every family has problems. Some truly love each other. But there are other families that are not so loving. No matter what kind of family you have and the problems that come with it, you are NOT ALONE. I used to get mad when people would say that. If my problems aren't special, then that means I'm not special and I can't continue to be a victim. But being a victim gets lonely and tiring. Having someone is a good thing. No matter how many times we tell ourselves we don't need anyone, WE DO.
As someone who has done a lot of things that she thought she "should", this is my wish for you this time of year:
To be in the company of those you love, chosen family or not
Go with tradition, create a new one, or fuck it watch television and fall asleep on the couch
Give gifts, get gifts, or toss the gifts out the window
Love Christmas or countdown the minutes to the day after
Decorate a tree with perfectly uniformed ornaments so wonderful it could be in a department store, go with all your kids' handmade ones (the photos of them as babies making you tear up), or just put up a bare Charlie Brown style tree
Make a giganto feast or order pizza-whatever gives you a plump food baby
Above all, find what makes you happy. You deserve it.