It's October and the news is a continual loop of shit with the government trying to oppress freedom of speech and the marginalized. Sometimes it is just too hard to pull out of the darkness. This week I chose to revel in the anger and sadness. So here's a list if you are like Lydia Deetz: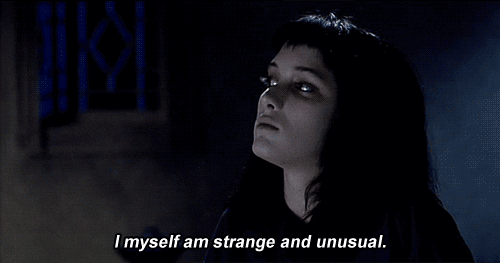 The Curious Creations of Christine McConnell: One part Food Network, one part Pee-Wee's Playhouse, a third of the absurd and you have the most original baking show I have ever seen. It's hand clappingly good.
Destroyer: This latest performance from Nicole Kidman looks like her performance is going to decimate the audience with her portrayal of a LA cop who goes undercover with tragic results.
WTF with Marc Maron: Marc Maron is a comedian who also plays Sam Sylvia on Netflix's GLOW. His podcast is him navigating through the Hollywood scene and interviewing celebrities. His brutal honesty about his neuroses is relatable and almost made me feel bad about laughing.
Mandy: I honestly don't even know how to describe the experience that is this Nicolas Cage led 80s horror style movie. Outrageous fun? Not for the squeamish? A work of art? Every year I find a new horror movie that floors me. Hereditary definitely left a lasting impression. But Mandy will be at the very least an annual viewing in the month of October while spreading the word to horror movie aficianados.
I hope you find passion and happiness this weekend!