Ever since I started becoming more accepting of myself on the inside (thanks Prozac), I have started to look at my outside differently. I have come to the conclusion that I am tired of trying to keep up with society's standards of how I look.
In elementary school you wear what brings you comfort with sneakers, t-shirts, hoodies, shorts, and pants. You don't care if you get grass stains on them, you just want to play. A good comb through of the hair and a brush of the teeth and you're good to go. As you hit your tweens, glasses and braces accompany the acne. Your friends start to shave their legs and you wonder if you should too. Your mom takes you bra shopping and you are mortified. All you really want is to look like Molly Ringwald in Sixteen Candles.
In junior high your hair isn't straight/curly/long/short/perfect enough and you use way too much hairspray to try and get it right (it never is). You get contacts to replace the glasses but the braces won't come off for another 2 years. Your chest grows as much as it's going to and you realize that in the land of big boobs you aren't even a contestant in the competition.
High school comes and your hair is finally the way you want it but it doesn't matter because you just don't look the "right" way. Your twenties is about experimenting and you start coloring your hair, wearing makeup, and getting piercings. Tanning beds, going to the beach, and laying out gives you a glow that makes your unacceptable pale skin acceptable. At least you can still eat what you want.
You get married in your 30s and a month later become pregnant. Two years later you become pregnant again. You bounce back within a month with both kids and go back to working out but that lower stomach fat is here to stay.
Your 43rd birthday brings shorts that are too tight. All your clothes make you hot. You accept that you aren't going to be as small as you were in your twenties and that going up a size isn't the end of the world. Pilates, jogging, biking, weight lifting, and yoga give you strength and health. You see yourself being active to the day you die and that will always be the motivation. Big hats, as much as you don't want to wear them, are a necessity. You bring bangs back to cover up those forehead lines but decide to join the Grombre movement because your hair color no longer defines you. Green and cruelty free is your motto with skincare and makeup. The less chemicals on your person, the better. Fashion will always be fun but you feel yourself moving closer and closer to Julia Louis Dreyfus's character in Enough Said as your aesthetic: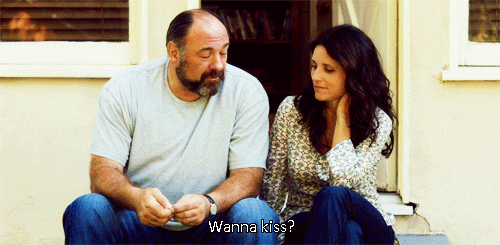 Natural hair, casual but stylish, minimal makeup-she is a goddess
You've always presented yourself the way you want but now you have confidence in your decisions and that is freeing. And even though magazines like Cosmopolitan and Vogue are becoming more inclusive, there is still Facebook and Instagram. Social media is the new magazine with the airbrushed model on the unrealistic cover. It's a standard that is impossible to live up to. You know that. But your brain still insists on telling you that you are less than. And rather than give up scrolling, you start telling yourself that you are good enough and that you don't need no stinkin' filters to present who you are to the world.