I handed the girl the picture from the magazine with a hopeful smile. She set it down on her station and started running her fingers through my hair. I was 13 years old and had been growing my hair out for a few years. I was excited for my new style after being tormented at school about what my hair looked like (I will never forget a boy coming up to me just to say "your hair looks terrible"). I kept my eyes closed as the stylist cut, dried, and applied product. And when she announced, "I'm done," I looked in the mirror. I wanted to cry. It looked nothing like the picture. It was feathered, not straight. I didn't look like the girl in the magazine. Were my expectations too high back then? Definitely. But I was an awkward teen with braces and glasses and just wanted to feel pretty.
Over the years my hair has been down the middle of my back long, pixie short, and everything in between. I have had bangs and no bangs. I've dyed my hair raspberry pink (for my sister's wedding no less to make sure I never forget it), had blonde highlights, and am currently considering letting the gray take over to finally accept that they aren't going anywhere. I have had some great haircuts but also a lot of bad ones.
Finding and loving a hair stylist is where my anxiety likes to take over. When I go to a new salon I have done my research (via Yelp) and taken recommendations from friends. I explain what I want and hope for the best. Some times I love it and say so. But if I don't, I give a nervous smile, pay, and don't schedule another appointment.
I know getting a haircut can be a trivial act in the grand scheme of life. I should be able to voice my opinion when I'm not happy. But I immediately go back to being that awkward teenage girl and just focus on not crying until I am in my car. I will eventually accept that I have to start over and grow out my hair again. And this is coming from the girl who went to the Vidal Sassoon Academy in Santa Monica in the late 90s and asked for the "Rachel." It ended as well as you would expect and 20 years later I can laugh about it (a little).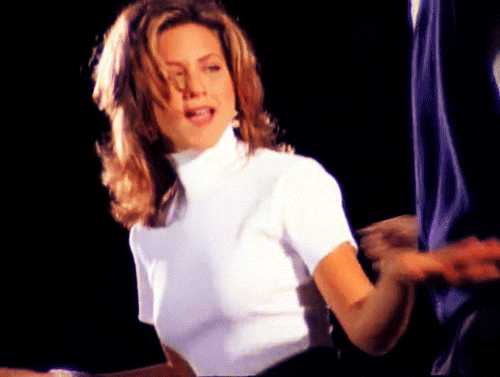 Do you have a stylist you trust? Do you like to try new styles or color?