"Can I ask you for your honest opinion?", I asked the lady with the black hair, cool Buddy Holly glasses, and denim shirt. "Of course," she said as she stopped and gave me her full attention. I held up the silky grape colored shirt with the muted flowers on it. "Is this too old lady?" Without missing a beat she answered with confidence, "Yes. Go with stripes." She patted the striped shirt pile of A New Day tops. I laughed out loud and nodded my head. "Oh girl. I have yet to meet a stripe I didn't like. Thank you so much! Have a good day." She smiled at me and said, "You too!" We both continued to browse the t-stands, tables, and displays of women's clothing.
Golden Girls or Palm Springs Chic-YOU DECIDE
Self care is a hot topic right now, especially for women. Taking time for ourselves. Getting a massage, a manicure and pedicure, or getting your hair done. Doing yoga or going for a run. As I have gotten older I have been better about taking care of myself. Exercise helped my anxiety (even if if I didn't know it) before I took medication. Massages and mani/pedis are nice but I get them for special occasions. But every Thursday morning at approximately 915 am, I pull into the covered parking garage for my self care appointment: Grocery shopping at Target.
UNDER HIS EYE
The white bullseye and red background greets me as I enter through the automatic sliding glass doors. I take the stairs to the main floor and marvel at the cart escalator, no matter how many times I have seen it. I go to the Starbucks counter and order my iced almond milk cinnamon macchiato. While I wait for my order I peruse the Dollar Spot where if I am lucky I can get out of that section for less than $10 (Curse you seasonal items! Why yes, I do need an inflatable cactus ring toss, a pineapple tic tac toe, and the cutest little greeter you ever did see)
With my drink in hand I get my cart and give it a bath with the provided blue wipes. I hook my environmentally friendly shopping bags on one side and my Amazon purchased cup holder on the other. I select an album on Apple music on my phone and put my earbuds in so I can not only hear the music but also so I can block out the noisy cart that I always pick.
I am methodical with shopping. I go straight to the grocery section and get what is needed and leave a little time after to check out the beauty section, women's clearance, and kids' clothes.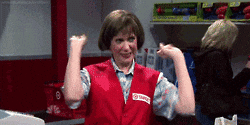 Target has always been there for me in my time of need. Need new clothes for Curls and Red? Cat and Jack has adorable apparel with empowering messages. They also have a one year warranty for when your 8 year old boy comes home with rips in his knees. Art Class has unique designs that appeal to my aspiring artist tween.
If you read my Mother's Day post, you know I love Target's women's fashion. They always have new collections that I am excited to check out. I am currently in love with their Universal Thread line and have bought a pair of jeans (so stretchy and soft!), a romper, and a baseball hat. The jewelry line BaubleBar did a line for Target called Sugarfix and the colors and designs are bright and fun.
Target has continued to expand their beauty section and a lot of their locations just finished a remodel. They now look like the floor of a Sephora (and a hell of a lot cheaper!). Everything is lit up, clean, and simple to make products easy to find. They even have a beauty specialist on hand at certain times throughout the week to answer any questions you might have.
I could probably go on for another 1000+ words but I am pretty you sure get the idea. I have loved Target since my mom took me to pick up my Cabbage Patch Kid off of layaway when I was Curls' age. My local stores has employees like Anita and Clifton who stop whatever they're doing to help me find an item. And all the others greet me with a smile as I go from aisle to aisle, scanning my cartwheel app and placing my goods in the squeaky red cart.
I hope you find passion and happiness this weekend!