She walks into the store with its overcrowded t-stands, trying not to be overwhelmed by all the loud graphic tees, bright prints, and her beloved stripes.  She considers putting on her sunglasses to block out the fluorescent lights.  She picks up a pair of jeggings, admires the color and softness, and sighs.  She decides she's too old for them.  After walking around for 15 minutes trying not to feel 80 among the teens and twenty year olds and being ignored by the number of sales people she passed, she exits the store.  She glances at the five headless white mannequins, all wearing fashion's latest.
I love fashion.  My degree is in Apparel Merchandising and Management. But my degree these days goes towards spotting trends (please lord make the off the shoulder and cut out tops go away!), helping my kids with their wardrobes when they let me, and trying not to yell at retail employees a la Vivian Ward with a "Big mistake.  Big.  Huge.  I have to go shopping now."
They say malls are starting to be a thing of the past and mall rats like I was in the 90s (okay, late 80s) are extinct.  I beg to differ.  I have a 10 year old who lives for the mall.  I can already see her asking me to drop her off near the closest entrance to Hot Topic when she's 15.  But I have fallen out of love with mall shopping.  I walk into stores like H&M, Forever 21, and American Eagle and am mostly ignored.  I start to wonder, "Am I too old for these stores?"  I feel like I am having an identity crisis with my style.  At 42, I feel like I'm probably too old for my current wardrobe but not just yet ready for a Mrs. Roper muumuu: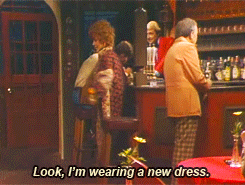 On Small Business Saturday the family and I headed to downtown Fullerton. Ever since we moved back to Orange County hubby and I have wanted to go hangout down there.  After a delicious lunch at Big Slice Pizza, we walked down Harbor Boulevard between Amerige and Wilshire.
Our first destination was Lost Levels, a video game shop with retro arcade games and pinball machines for customers to play.  The guys running the place chill behind the counter and are helpful if you need it.  They also have video game systems for purchase, video games to put in those systems, candy, and other merchandise that your kids will want to spend all their money on.  After letting the kids milk us for all our quarters, we headed over to Goldie's.
Goldie's is a clothing boutique with hipster California wear.  The guys took a hard pass on coming in so my daughter and I greeted were warmly by a sales girl as we decided on what jewelry we had to have (a Leo necklace for my girl, some dangly earrings for me).  I was handed a mimosa (yes please) and the girl was so sweet to ask if Scarlet wanted some OJ or lemonade.  We walked around for a bit longer than the guys probably wanted us to, I tried on a top that was too delicate for my taste, and left with hopes that we will be back soon.
My favorite stop of the day was Half Off Books.  A couple of visits had already been made by Scarlet and I and we couldn't wait to introduce her dad and brother.  We walked in and were told hello by no less than three staff members with huge smiles.  An adorable older doggo made her way around the store as we were told about their fire sale.  The kids and I headed straight to the children and young adult section, eager to find the books we would take home.  Curls and I started making a stack while my boy got frustrated and started sulking after trying to find a Minecraft book.  I approached sales guy Luis and asked for his help in finding a book for him.  I mentioned that I had to steer my eight year old out of the horror/crime section on the other side of the store and told him books he had already read.  Within five minutes Luis had the Scary Stories trilogy by Alvin Schwartz and not a minute later Wesley was reading one of the three.  All of the guys are obviously passionate about what they do and love books.  I can't think of a better place for us to grow our collection of stories.
Small Business Saturday didn't solve my Mrs. Roper's muumuu problem but it did give me hope that there are still good companies out there who treat their customers well and I won't have to resort to online shopping only.  So if you can this Christmas, head over to that Mom and Pop shop in your town and give them your business.