When I was in Target on Friday, I walked past a lady a few times who was also getting her shop on. What made her standout was how stylish her attire was. Her toes were painted a bright orange and they were in a pair of jeweled gladiator sandals. Her outfit consisted of a pair of dark denim jeans and a multicolored tunic paired with a sea foam green bib necklace. The colors in her blouse and necklace set off her layered dark hair.
I adored her look so much I had to tell her. She was super nice and not scared of my stalker behavior at all. She informed me that she works from home so when she goes out she likes to dress up. She also said my compliment made her day, which in turn made mine. I walked away feeling great and inspired. As a stay at home mom/aspiring writer, I am in loose fitting, wouldn't-be-caught-dead-in public clothes when I am not taking Curls to school. Add the no makeup look and my hubby is the luckiest man on the planet.
So it's time to do an overhaul of the wardrobe and dress like who I want to be: a successful author. When I picture myself as a best selling novelist I think of stores like Anthropologie, chevron and nautical prints, and bright colors. I started over the weekend by purchasing this Merona dress from Target for my Curls' kindergarten graduation: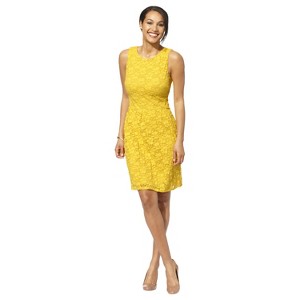 The plan is to pair the dress with dressy gladiator sandals, a turquoise blue mani/pedi, a orange clutch, and tortoiseshell cat eye sunglasses. So thank you Target lady. Inspiration comes when you least expect it and I am glad that I can recognize it.
Image is courtesy of
http://target.scene7.com/is/image/Target/14375266_Alt02?wid=300